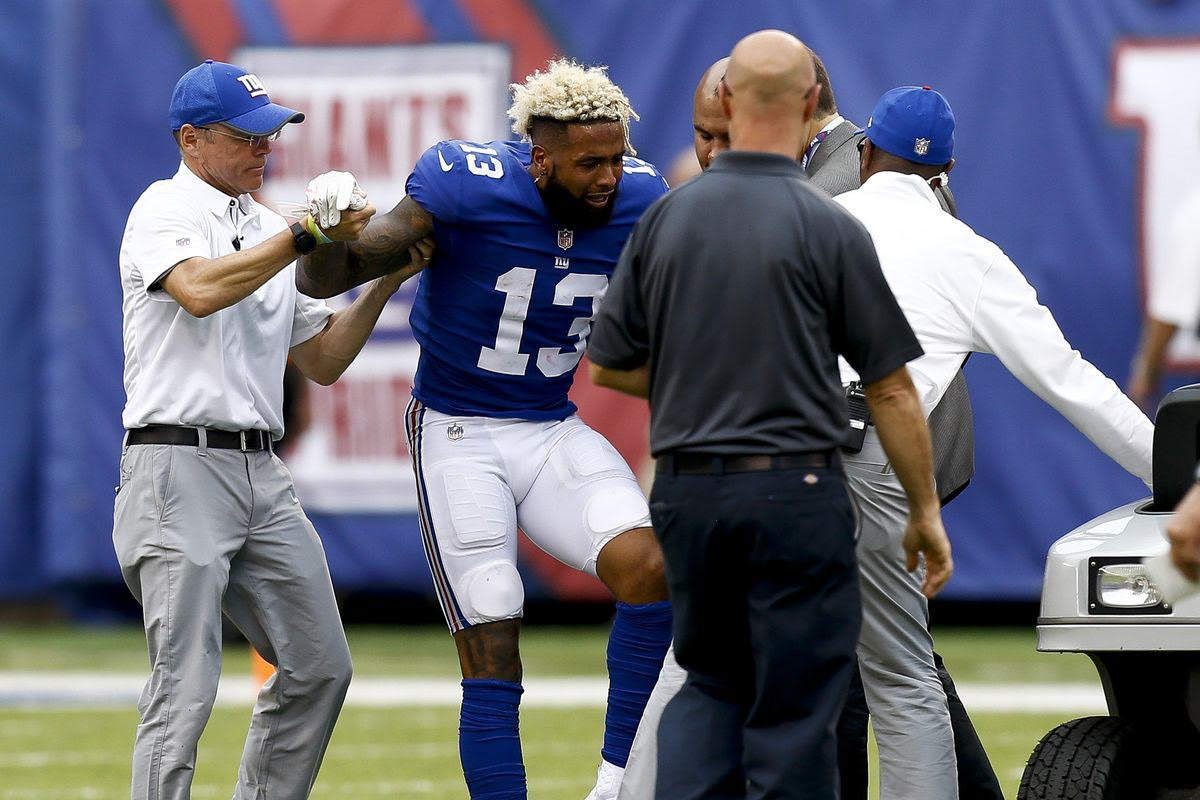 The giants have lost their golden player, Odell Beckham. You probably remember him for his famous three fingers catch that was crowned «catch of the year» in 2016, but he's way more than just a spectacular catcher for the giants. The wide receiver made an average of 85 yards per match last year, which is almost a whole field. The NFL even ranked him 8th best player of the year when he had only played a few games during this season.
The famous wide receiver, Odell Beckham, didn't show up during many games now. He's been watching his team from the bench for more than three weeks now, and the game misses his fabulous catches, his incredible runs and his famous celebrations.
The reason he can't play is because he is severely injured. Indeed, he posted several pictures on Instagram where you can see that he has a big cast on his left foot.
How did it happen? It's slightly hard to say, because, in football, players endure an injury until it becomes impossible to play with the pain. In his case, the injury showed up during the game against the Chargers in October. He was tackled by one of the defensive players and his foot hit the ground so badly that his ankle must have broke.
The season is over for him. Even if he gets back on the field, he won't be good enough because he spent too much time outside of the game. The Giants will have to find out how to handle the season without him, because he's not warmed up enough to be as skilful as he was before.
However, we should maybe consider the fact that Tom Brady also missed his first season games last year, but ended up being the MVP of the year. However, the main difference between Tom Brady and Odell Beckham's situation is that Tom Brady was able to practice while he wasn't on the field. The reason he didn't lose his arm was because he still practiced the whole time.
But how is Odell Beckham going to practice his runs if he can barely walk? I think his case is going to be more like Greg Gronkwinski's, who, because of his injury, had to support his team from the bench at the Superbowl. Although, I'm not necessarily saying that the Giants will get there, I will be impressed if they find out a way to do it without their best player.
 In fact, the question of the year may be how far the New York Giants can go without Odell Beckham, and will Manning be able to handle the team by himself.